Our Veterinarians
When a family member is under the weather or suffering from discomfort, he or she deserve the attention of a caring, competent physician with the skills to diagnose his or her ailment, and the compassion to treat him or her with tenderness.
At Value Pet Clinic - Renton, an expert staff of veterinarian doctors and a skilled team of technicians are here to do just that. Under the directorship of our highly skilled veterinary doctors, your pet is always in good hands. We're ready when your pet needs us.
Dr. Kristen Kjellberg
DVM | Managing Veterinarian
Dr. Kristen Kjellberg was born in Houston, Texas. She attended the University of Texas at Austin, where she performed at football games as part of the Longhorn Band, and earned her bachelor's degree in Marine Biology. While studying as an undergraduate, she worked as a technician for a non-profit spay/neuter clinic. Here she discovered a passion for shelter medicine, and making medical care accessible to every pet. She attended veterinary school at Texas A&M University, where she received her Doctor of Veterinary Medicine.
Dr. K worked in shelter and emergency medicine, as well as general practice, in Austin. She served as the Mayor's appointee to the Animal Advisory Commission for the City of Austin. She maintains an interest in local, state and federal policies, especially those affecting veterinary medicine and the human-animal bond.
Dr. K and her husband moved to California in 2016, where she worked as a shelter vet in Los Angeles. While she loved helping homeless pets, she missed the bonds she had with her clients and patients in general practice. She is mostly a city girl, but missed the wide open spaces of Texas. She had always been fascinated by the beautiful Pacific Northwest, so when the opportunity arose, she and her husband jumped at the chance to become Seattlelites. They moved to Washington in July of 2017, when Dr. K joined the Value Pet Clinic family.
In addition to shelter medicine, Dr. K's professional interests include client education and communication, new graduate mentoring, preventive care, dermatology, and abdominal surgery. She is passionate about promoting self-care amongst staff and veterinarians in this challenging, but rewarding field. She also has strong interests in animal behavior and feline friendly handling. Dr. K cherishes the human-animal bond, as well as getting to know her patients and clients on an individual basis. She strives to promote the best wellness for each pet, while recognizing that there is no "one size fits all" approach. Illness and wellness medicine has to be customized to fit the pet and their family.
Dr. Kjellberg met her husband, Henri, in a high school computer science class. They reconnected in undergraduate school, when Kristen realized that dating a rocket scientist might be a good idea. They look forward to celebrating their 10 year anniversary soon at their home in south Seattle. When not working, Dr. Kjellberg enjoys live music, listening to NPR, home improvement, and exploring Seattle with her husband and furkids. She is looking forward to mountain biking in the PNW, and also hopes to brush up on her sailing skills.
The Drs. Kjellberg have 5 rescues - 2 mixed breed dogs: Ender and ASCII, and 3 cats: Parka, Kraken and Captain Cuddles. Ender and ASCII like to snuggle, although Ender loves her ball above all else. ASCII was adopted at vet school - his pregnant mom was brought in by a Good Samaritan who had freed her from a coyote trap. Kraken was an orphaned kitten found under a trailer, and Parka was a stray kitten in an office parking garage. Captain Cuddles was rescued from near death on the streets of LA, and while his main hobby is food, he also enjoys playing with Ender's tail and chasing the other two cats.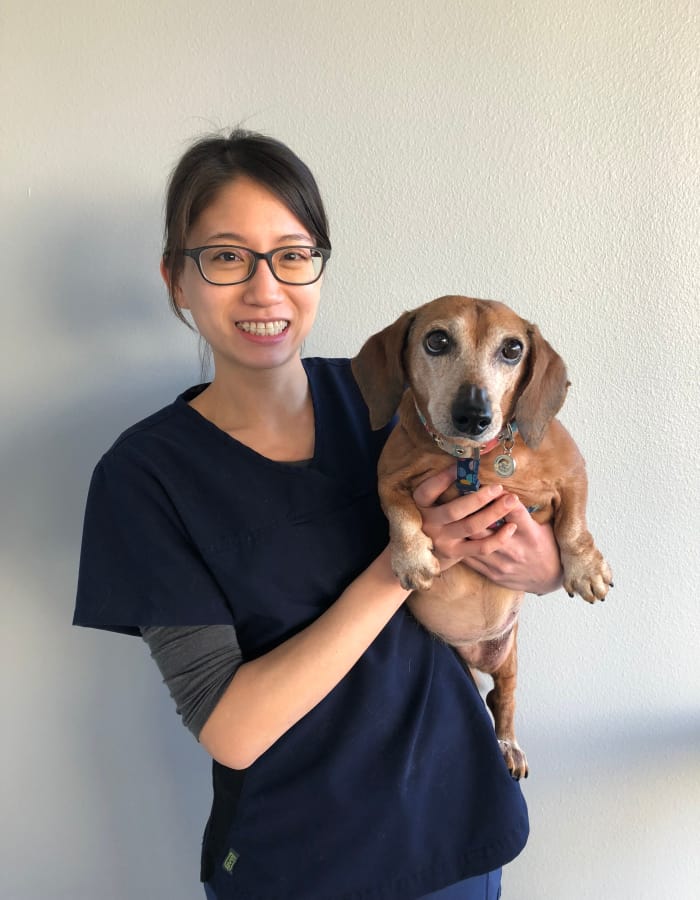 Dr. Stephanie Chen
DVM, MS | Associate Veterinarian
Dr. Stephanie Chen was born in State College, Pennsylvania but grew up and finished most of her education in Taiwan. She earned a Doctor of Veterinary Medicine (DVM) degree from National Taiwan University in 2009. Within two years, she completed a Small Animal Rotating Internship at National Taiwan University Veterinary Hospital and earned a master's degree with a thesis topic on small animal post-surgical pain management.
After returning to the US, Dr. Chen achieved the Educational Commission for Foreign Veterinary Graduates (ECFVG) certification and started practice in the US in 2013. Prior to completing the ECFVG certification, she was trained at the ECFVG clinical training program in Louisiana State University.
Dr. Chen has been a member of the American Veterinary Medical Association since 2013. She worked for Finn Fill Animal Hospital and Banfield prior to joining us in 2014. Her professional interests include small animal soft surgery, emergency and neurology.
Dr. Chen has an 11 year old dachshund named Lulu and a 4 year old calico kitty named Autumn. She can speak Mandarin Chinese fluently and she just started to learn Japanese recently. Outside the veterinary world, she also enjoys traveling, exploring new restaurants/coffee shops, volleyball and wine tasting.